Upsilon Posted on October 19 2023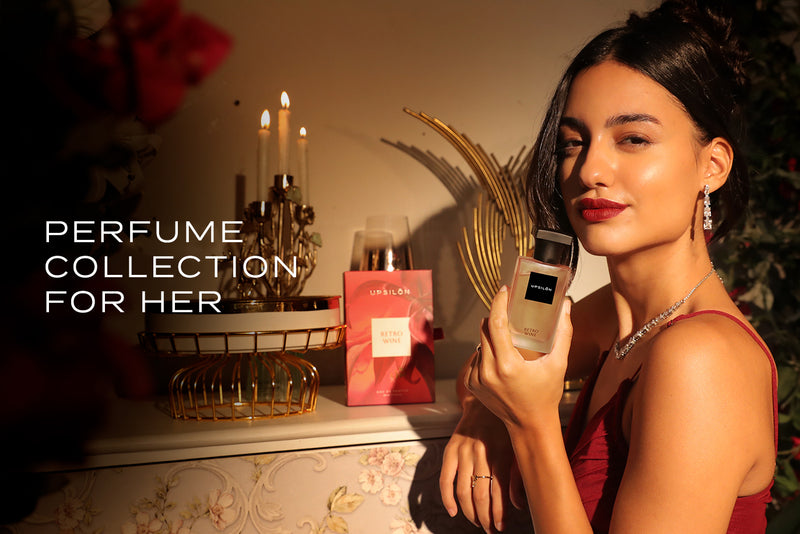 She is Carefree, she is timeless, she is elegant…… But who is she?
Step into the enchanting world of to discover her, Upsilon's latest perfume collection for women as we reveal our latest perfume line, painstakingly created for women who enjoy the appeal of excellent perfumes. This collection embodies true elegance and luxury, transporting you on a fragrant journey to cherished moments of our lives.
Upsilon, known for its never-ending style, has discovered a treasure mine of fragrant secrets developed specifically for women who wish to express themselves. Each perfume in this collection is an homage to grace, combining high quality with a charm that lasts all day. Let us take a lovely journey into the enchanted world of Upsilon's latest long-lasting perfume for women's collection, where the perfumes complement your story.
VINTAGE LILY: FOR A TIMELESS ELEGANCE
Imagine taking a relaxing stroll through a blooming garden with "Vintage Lily," an oriental floral fragrance. The initial burst of fragrance transports one to an enchanting garden, while the heart of the Premium Perfume for her unfurls a warm embrace of oriental spices. "Vintage Lily" is more than just a perfume, it's an invitation to embrace your inner grace and exude confidence, allowing your story to unfold with every lovely whiff. 
RETRO WINE:  FOR CLASSIC GLAMOUR
Indulge in the cozy embrace of "Retro Wine," a Woody Spicy fragrance. The moment you apply it, it greets you with a tantalizing blend of spices and fruits, setting the stage for a comforting experience. evokes a sense of luxury, indulgence, and refinement and is reminiscent of your favorite snug corner—a place where you truly shine. "Retro Wine" is like a nod to the timeless charm of nostalgia, inviting you to sway through life's beautiful moments and create memories that are truly yours.
BOHO WAVES- FOR A CAREFREE SPIRIT
Feel the rhythm of the story with "Boho Waves," an Oriental Floral Long-lasting perfume for women. The top notes burst with the freshness of flowers, sweeping you into an exhilarating journey through a garden in full bloom—your garden of dreams and aspirations. As the scent evolves, gentle spices are delicately added, adding a dash of mystery and allure to your tale. "Boho Waves" is a celebration of your femininity, a sensory journey through the vibrant essence of flowers and spice, and a dance that is entirely individual to you.
To all you wonderful women out there,
Upsilon's latest perfume collection for women is more than just a bunch of lovely perfumes, it's an invitation to celebrate you—the woman who knows her style, her worth, and her dreams. These perfumes, carefully crafted for top-notch quality and a long-lasting appeal, pay homage to the vibrant, unique individual that you are. Whether you connect with the timeless grace of "Vintage Lily," the comforting nostalgia of "Retro Wine," or the lively spirit of "Boho Waves," Upsilon's perfume collection weaves a fragrant tale, where you are the enchanting main character.
Choosing a great perfume is like wearing your personality proudly. So, wear Upsilon's premium perfumes for her and let everyone catch a whiff of your amazing essence. Are you ready to step into this fragrant journey and celebrate the beautiful, unique story that is undeniably yours?
Read More Articles: