How Perfume Trial Packs Aid in Finding Your Ideal Fragrance
Posted by Upsilon Official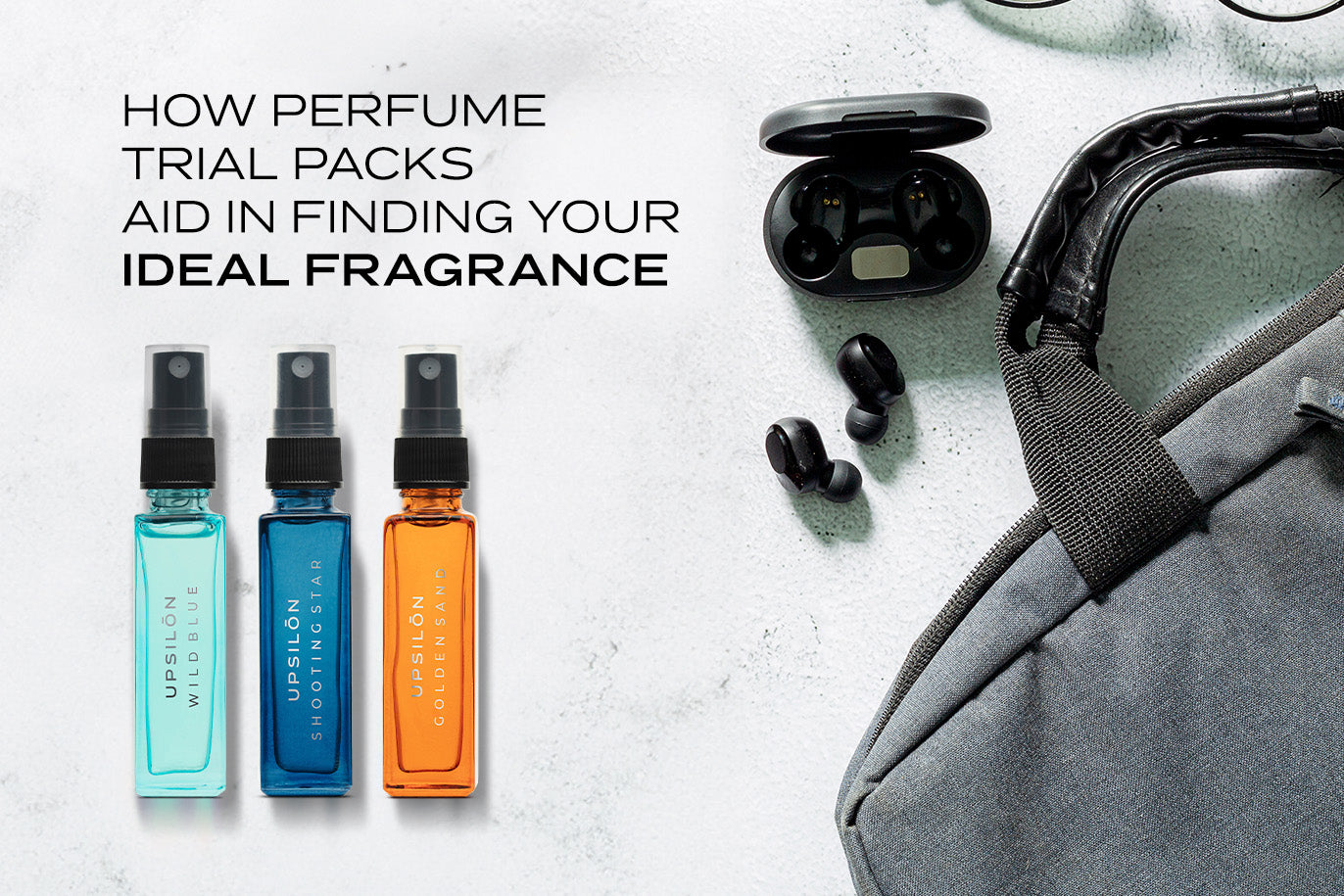 Finding the perfect fragrance that genuinely reflects your personality and style can be an exciting journey, but let's admit it, it can also be a bit overwhelming with the vast selection out there. No worries, though! We've got a fantastic solution for you - perfume trial packs!
1. Explore and Save with Luxury Perfume for Men
Just imagine a cost-effective way to explore an array of luxurious fragrances without breaking the bank. That's precisely what pocket perfume trial packs offer! You can get your hands on these trial-sized wonders, packed with captivating scents, including long-lasting options. Now you can experience premium men's perfumes without making a full-size commitment.
2. The Sensory Adventure of Eau de Parfum
Oh, the magic of fragrance development! With a trial pack, you get more than just a quick whiff. Apply it to your skin, and let the enchanting journey begin. Discover the top, middle, and base note layers unfolding over time. It's like experiencing a symphony of scents, and you're the conductor!
3. Your Signature Scent Awaits
Are you curious about different fragrance families, like floral, eastern, woody, or citrus? Trying out a perfume trial pack lets you compare and contrast these diverse aromas side by side. You're one step closer to finding your signature scent - the one that makes you feel like your most confident and attractive version.
4. Matching Seasons and Moods
Let your fragrance tell your story - every season and mood accounted for! With perfume tester packs, you can tailor your scent selection to match the occasion and vibe you want to convey. Embrace the light, fresh notes for sunny adventures, or go for warm, spicy undertones to cozy up in winter. Your fragrance, your rules!
5. Eco-Friendly Choices with Upsilon Perfume
Being kind to the planet is always a plus! Choosing a perfume trial pack means less waste, as they come in smaller, eco-friendly containers. You get to enjoy delightful scents while consciously choosing a more sustainable world. A win-win for you and Mother Earth!
6. Unveiling Hidden Gems
Ready for a surprise? A pocket perfume for men often includes limited or rare edition fragrances not easily found in stores. This is your chance to explore exclusive Eau de perfumes that make you stand out from the crowd. Who knows? You might just stumble upon your new signature scent!
7. Take Your Scents on the Go
Adventure calls, and you've got your travel plans set! No need to lug around big perfume bottles. Travel-friendly trial-sized vials are here to save the day! Whether it's a short getaway or a grand expedition, you can switch up your scent.
8. Thoughtful Gifting Made Easy
Looking for the perfect gift? Perfume trial packs make an ideal present for fragrance enthusiasts or anyone wanting to discover new scents. Show your loved ones you care about their individuality and let them explore a collection of delightful fragrances at their own pace.
9. Confidence in Your Perfect Match
Choosing a full-size perfume is a big decision. We get it, you want to be sure! Thanks to perfume trial packs, you can wear a scent for a while, see how it blends with your unique chemistry, and feel confident that it's the one before committing to a full-size bottle.
So, are you ready to embark on a scent-sational journey with perfume trial packs? 
We bet you are! It's a fun and affordable way to find the fragrance that speaks to your heart. From luxury perfume for men to long-lasting options, there's something for everyone. Plus, you get to explore various scent families, match your fragrances to the seasons, and make eco-friendly choices along the way.
Discover your perfect scent now with Upsilon's perfume trial packs! Start your olfactory adventure today!
Read More Articles: